Keel laid at New York Naval Shipyard December 16, 1952
Launched October 8, 1955
Commissioned April 14, 1956
Decommissioned August 20, 1994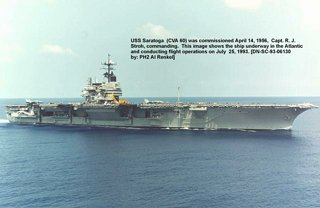 This Saratoga (CV-60) was the second vessel of the supercarrier Forrestal class, and the second aircraft carrier to bear that name. Since 1780, there have been five other warships named USS Saratoga, and at least one other troop transport and hospital ship. The first carrier to bear the name fought gallantly in the Pacific during World War II. After surviving the conflict, USS Saratoga (CV-3) went to the bottom of the Bikini Lagoon during the Operation Crossroads atomic bomb testing in 1946.
Nicknamed both the "Sara" and the "Grand Lady of the Sixth Fleet," the newer Saratoga made 22 deployments during her 38-year active history; 65,000 sailors, marines and air crew served aboard her during that period. About 100 died, including the first US casualties in Desert Storm in 1992 and several other air crews shot down over North Vietnam in 1972.
In 1958 Sara was in the Mediterranean during the Jordanian Crisis. By 1962 the carrier was patrolling the waters off Guantanamo Bay during the Cuban Missile Crisis. During the famous Six Day War in 1967 she was stationed off the coast of Lebanon, and returned to those same waters in 1970. President Nixon was aboard when word came of the death of Gamal Abdul Nasser
In 1985, Saratoga played a role in the rescue of the hijacked luxury liner Achille Lauro, and F-14 Tomcats from Saras Air Wing forced down the aircraft on which the hijackers were escaping.
On her final deployment in 1994, Saratoga aircraft flew thousands of sorties in the Adriatic in support of US and NATO operations in Bosnia.
When operational, Sara was home to a ships company of more than 3000 sailors and marines. Another 2500 members of the resident Air Wing brought the total complement to more than 5500--greater than the population of many towns in Rhode Island.
Interesting Facts:
Sara is 1,063 feet long (990 feet at the waterline) and would reach to the 84th floor of the Empire State Building if stood on end.
The flight deck is 252 feet wide at its widest point. The entire steel deck covers a total area of approximately four acres, and is 1 3/4" thick. It is wide enough to sit both the SS United States and the SS America side-by-side on her deck; the deck is as wide as a World War I destroyer was long.
From keel to mast, Saratoga is as tall as a 25 story building. There are 19 levels including the island, and more than 3,000 separate compartments or spaces.
The engines deliver more than 260,000 horsepower, or enough to keep about 1,430 1968 six-cylinder Ford Mustangs on the road. Each of four propellers is 22 feet high. The rudders weigh as much as 45 tons each.
The ship carried two 30-ton anchors. Each link of the anchor chain weighed 350 pounds. Each chain could reach a depth of 180 fathoms (1,080 feet).
The hangar deck area for handling, parking and repairing aircraft is the main deck. It is 75,000 square feet in area, or two acres, and can house more than 80 planes.
Storerooms on the ship are equal to a six story warehouse one block square and have a total capacity of 371,204 cubic feet.
It takes 300,000 gallons of paint to paint a Forrestal-class carrier. This is enough to paint 30,000 average homes.
The ship cruises at a speed of more than 30 knots, or 36 miles per hour if you are driving a car.
More than 52,000 tons of structural steel went into her construction--along with more than two million pounds of weld metal. Fully loaded, she displaces almost 80,000 tons and draws 37 feet of water. As she is now, without fuel, supplies, crew or aircraft aboard, Saratoga draws about 5 feet less.
The fresh water plant is capable of producing 200,000 gallons daily; the on-board air conditioning has a capacity of 1,050 tons.
The communications system aboard included more than 2,300 telephones, and the electronics systems used more than 1 billion tubes, transistors, etc. and more than 10,000 miles of electrical wiring.
Commanding Officers of SARATOGA (CV 60):
VADM R.J. Stroh - 14-Apr-56 to 1-Dec-56
Captain R.B. Moore - 1-Dec-56 to 17-Dec-57
RADM Alfred R. Matter - 17-Dec-57 to 16-Oct-58
Admiral John J. Hyland - 16-Oct-58 to 9-Nov-59
RADM Allan F. Fleming - 2-Nov-59 to 9-Nov-60
RADM Roger W. Mehle - 9-Nov-60 to 3-Nov-61
RADM Vldemar G. Lambert - 3-Nov-61 to 3-Nov-62
Captain Frederick T. Moore - 3-Nov-62 to 28-Sep-63
Captain John E. Lacouture - 28-Sep-63 to 2-Oct-64
RADM Jack M. James - 2-Oct-64 to 2-Sep-65
Captain Harold F. Lang - 2-Sep-65 to 7-Oct-66
Captain Joseph M. Tully - 7-Oct-66 to 7-Sep-67
RADM John H. Dick - 7-Sep-67 to 4-Apr-69
Captain Warren H. O'Neil - 4-Apr-69 to 8-Aug-70
RADM Dewitt L. Dfreeman - 8-Aug-70 to 7-Aug-71
VADM James R. Sanderson - 7-Aug-71 to 16-Feb-73
Captain Louis C. Page - 16-Feb-73 to 12-Sep-74
VADM Robert F. Dunn - 12-Sep-74 to 11-Sep-76
RADM Charles B. Hunter - 11-Sep-76 to 4-Feb-78
VADM Edward H. Martin - 4-Feb-78 to 14-Jul-79
RADM James H. Flatley III - 14-Jul-79 to 1-Oct-81
RADM Leonard G. Perry - 1-Oct-81 to 11-Nov-83
VADM John K. Ready - 11-Nov-83 to 26-Mar-85
VADM Jerry L Unruh - 26-Mar-85 to 7-Aug-86
VADM David E. Frost - 7-Aug-86 to 5-Mar-88
Captain James T. Matheny - 5-Mar-88 to 26-Apr-90
Captain Joseph Mobley - 26-Apr-90 to 18-Apr-91
Captain James M. Drager - 18-Apr-91 to 4-Dec-92
RADM (SEL) Donald A. Weiss - 4-Dec-92 to 20-Feb-94
Captain William H. Kennedy - 20-Feb-92 to 20-Aug-94
FOR FURTHER INFORMATION:
About aircraft carriers in general:
http://www.webring.org/cgi-bin/webring?ring=carriers;id=7;list
About American attack carriers:
http://www.history.navy.mil/branches/cvcvn.htm
Another good site for general carrier information:
http://www.multied.com/navy/
Within that site are detailed histories of both US carriers named Saratoga:
http://www.multied.com/navy/Cv3Saratoga.html
http://www.multied.com/navy/CVB60Saratoga.html
For information about the Navy's Ship Donation Program:
http://www.navsea.navy.mil/ndp/
---